Smile
MAG
November 17, 2011
You must be tired from your walk; come closer to Granny. The forest isn't for little girls to wander. I must have a talk with your mother.
Well, let's see what she made me. What? You made it all? Why, you're just getting more and more talented!
Picking perfect fruit is difficult, you know. Just look at how shiny this red apple is! I can see my own face.
Take a look. Go on, don't be shy. Good girl. Look how pretty you are. Smile. That red coat goes very nicely with that pretty blonde hair of yours. Where did you get that blonde hair from? Not from me. But Granny made that coat for you, remember? Of course you do. And you baked this cherry pie all by yourself? And look at that! You even wove the crust together – I'm very impressed. You should be proud of yourself. Why aren't you smiling? What's wrong? Come closer to Granny. Be a good girl and smile. Bad things happen to pretty girls who don't smile. Let Granny hold your hand. It's very pink, much softer than I remember. But what do
I know? Granny is losing her memory and her mind. Don't look at me with those big eyes. Stop worrying. Why don't you smile? Let me see your teeth. Now, hold still. I'll show you mine. Let me show you what a smile is supposed to look life.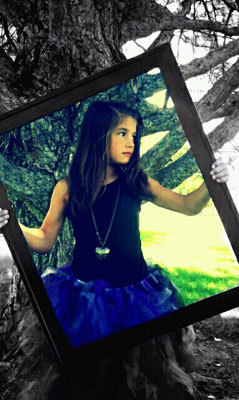 © Kailee G., American Fork, UT