Do You Know Her?
November 5, 2011
I saw her, that girl with the dusty clothes, the one with raven hair so black that it looks blue,
go into the classroom.
People say that she got kicked out of her house when she was fifteen,
that she was arrested for selling drugs,
that she spends her nights in the alleys.
But I saw her go into the classroom that day.
I crept up and peered through the door.
She drew out a large blank paper
and some brushes
and a palette.
You should have seen her,
the way she knew exactly what to do to make that crusty paintbrush soften into a strand of silk,
the way she knew how to blend the old paint that had been left unused, untouched for years.
I saw her,
staring at the blank sheet
that was her future,
so bleak, so powerless, so desolate.
And then she began.
I watched her pour out her heart onto that black piece of paper,
and slowly but surely, that piece of vast emptiness transformed into
a pink sunset, with fluffy clouds that hugged the sun's rays.
It was the kind of sunset that you imagine to be as the perfect ending to a perfect day,
the kind you can only see if you're really lucky.
And I saw her put back the brushes while it dried.
She folded that piece of sunshine, that ray of hope four times into a square
and slipped it into her faded jean pocket, and walked away.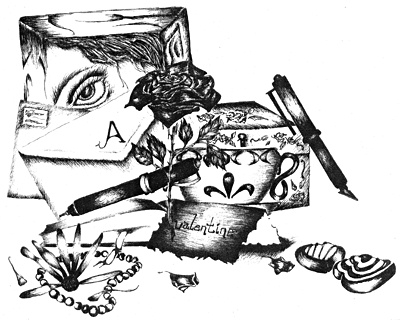 © Cara K.,Cheney, WA