My Heart Will Rest.
October 11, 2011
Do you know how hard it often is?
To see a life changed to new,
while I am treading the same water, I was once treading with you?
I'm not pulling, I'm not stretching further away,
I've just spilled my heart out,
I've said everything there was to say.
Were your ears open?
I believe I may be a faint whisper,
no longer a shout, or a tug of light.
I used to believe daily,
that whatever may happen,
why that would be right.
But I'm stuck in this darkness,
mere curiosity takes me by the hand..
as I travel down the lonesome roads,
in which I call no man's land.
I know you feel the pain of sitting alone,
as your empty heart beats faster with the wind.
You often wonder why it is so easy for others,
to have that accessory they call a friend.
But know you're not the only one,
I'm here on the other side,
hiding beneath my bed.
Reflecting on the salted wound,
from profound forgotten things I once said.
I'm hiding, I'm whimpering,
but I have to be strong for the sake of me.
This is my time now,
I just never knew it would be a time you failed to see.
But you are, and you have..
why have you missed so much?
Nights of contemplation,
fighting fears, all I needed was your touch.
Now I have grown bitter.
For without them,
I have to acquire that new feeling.
Adjust listening to the raw tones,
Devil's Tears, Time To Pretend, The Reeling.
It's like a deep bite, sunk into my mind, my heart,
and my soul, now numb.
I find scattered about the floor,
pieces of all of these aspects,
now it's all merely a crumb.
I guess nothing may ever be as simple,
but I know in this time, my heart has grown strong.
And when everything comes crashing down..
I'll know it was you who I needed all along.
But for now, hear me out, listen to the words I posses.
Live this life of yours, and roam free,
one day I'm sure my heart will rest.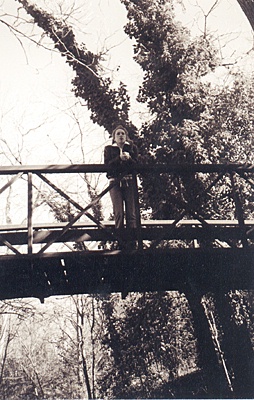 © Loni B., Hamilton, TX