addictions
November 6, 2011
looking into my past,
how things have changed.
a little girl can cry no more,
for those times have passed.
young but experienced.
drugs and alcohol,
the past that changed me.
i cant regret anything,
i stand here strong.
i thank my old addictions,
my past relationships,
the girls and boys that hurt me,
the haters.
my addictions made me want more,
my past relationships caused fear,
the girls and boys who were not woman enough or man enough to treat me right.
the haters that have judged my everything
the more i wanted the pain to go away the more i lost myself.
the fear of seeing him to know what he wanted to do made me cry on the inside but smile on the outside.
he still doesn't know how much he marked me,
the reason for me being scared of guys.
my past relationships made me want better for myself,
realizing how a guy should treat a girl.
how i wanted to be treated,
what i wanted in a guy,
what i wanted for me.
i can still hear those girls saying,
your not pretty enough,
your not skinny enough,
your body isn't right enough,
your not nice enough,
your not enough,
you have scars on your arm,
we don't want to be your friend,
we hate you,
why are you still alive,
you would look better dead.
the boys that would rather have me then have my heart.
the haters that noticed everything i was going through,
made me trip and fall.
and now...
my addictions only a faint memory.
my past relationships made me stronger,
i now have an amazing guy i can call mine every day.
i tell him i love him to remind him,
exactly how happy i am with him.
the girls still try to taunt me,
i showed them how proud i am to be myself.
they might not know everything iv been through,
but i do.
after a long time,
i learned to love myself exactly the way i am.
with my face not being the prettiest,
my body not being the hottest,
but my heart being the sweetest.
the boys that try and show a hard front,
but inside have been hurt many times.
i don't care about them they made me stronger too,
led me on,
broke my heart.
i have a boyfriend who took my shattered heart and put it back together.
he loves me for my imperfections,
shows me how glad he is because i'm in his life.
the haters which i don't need to prove anything to,
i shut them up with a smile
my addictions made me who i am today.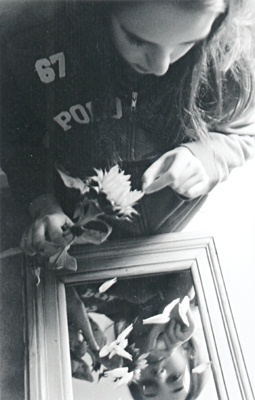 © Cerys W., Marblehead, MA