A Secret Sorry Kiss
November 6, 2011
I'm sorry!
No you're not.
Boy against girl
Girl against boy.
The classic struggle.
He's sorry.
She doesn't care.
Come here.
Shes still in love with him.
She doesn't admit it.
Come here he says again.
One kiss on a cheek,
her heart flutters at that one touch.
One caress.
One feeling so she knows that he's sorry.
Come with me.
She's in a daze.
She can't hear him.
Come with me
he says again.
She follows
drunk in her own thouhts.
He stops
and she stops in front of him.
Suddenly his face goes serious
like a parents when they know your sorry but they're still mad.
He leans in.
She leans up.
There lips crash together.
His lips were soft
and his hands are around her hips
just resting there.
letting her know hes there.
They pull apart.
and smile.
Knowing that they share a secret
that they both know they won't keep.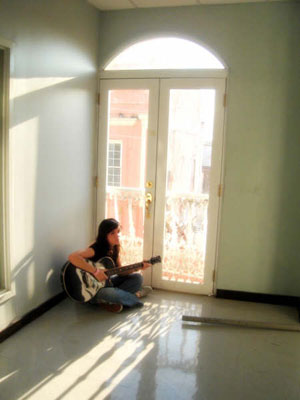 © Eveliz V., Bayamon, Puerto Rico