Time Flies By
November 1, 2011
Time flies by,
As we search the sky.
Searching for you,
As we wonder why.

We cry as we search,
In the heavens above.
Wondering why,
We lose the ones we love.

You were taken too soon,
Though you weren't in your youth.
We weren't ready for you to go,
We just want to know the truth.

Was it really your time?
Or were you taken too soon?
Was it like in that song?
Did you leap over the moon?

Standing upon this mountain,
We know you're gone for good.
We halt our search and embrace,
As we stand where you stood.

Time flies by,
Up here by the sky.
Remembering you,
Now we know why.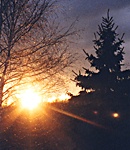 © Christy S., Germantown, NY