Cobblestone History
October 29, 2011
I was born a 2 by 2 foot plot being filled with an ill tempered gray substance.

I wish I'd never experienced a birth as cruel as mine.

A molten rocky texture spilling painfully slow from the pelvic birth canals of cement trucks.

My mother never kissed me.

Only looked me over and smoothed out the imperfections with her cold, flat, iron hand.

I am an orphan abandoned to the ominous nature of skyscraping trees and urban lights.

My crib was carelessly constructed of paper thin orange tapelines and plastic

that warned of my hardening skin.

I was a caution.

To new shoes that risked being ruined.

To children who risked being dirty.

To animals who slapped their tracks upon my cheek.

I was useless unless I could be trampled.

I look over to my elder brother and see how he has lost his identity to the chubby handprints

of a child whose chubby finger declared him James. Jimmy. Jim...Crow.

I sat there and rotted...hardened through days and days of injustice.

Through 2, 4, 10, 20, 80, 200, 500 feet marching and chanting "We deserve our rights!"

I've been stained by the results of boys beaten by batons too heavy and harsh

for their crime of stealing a candy bar.

I have been bleached by the brush of the mother

who can't scrub her son's Hershey chocolate blood off of me.

And I know how she feels.

Because no matter how much it rains, I can't wash this hatred down the storm drain.

I am a cobblestoned tan cemented truth born to the troubled times of Harlem.

I've seen enough to break any spirit.

That's why this ugly crack splits me in two.

That's why children avoid stepping on me.

That's why sidewalks are always being re-done...to pave over our past.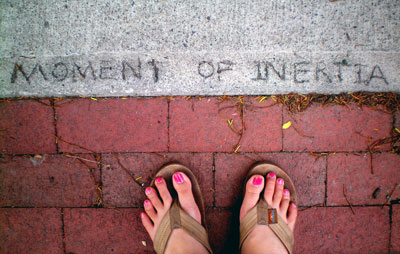 © Kate H., Fullerton, CA