The Ripple Effect
October 28, 2011
Have you ever watched an untouched stream?
Heard the quiet ripple as slowly it flowed?
So perfect, so clear and still, so pure and new. But then with the rumble of thunder rain invades the stream tearing its once perfect stillness apart. It's no longer untouched but now violated, defenseless as every raindrop rips through its once still cover. And what can the stream do? Nothing but wait for the storm to end. It soils its purity stirring up violent waves of earth and dust. When the storm ends once again the stream returns to its stillness yet, its never the same. Slightly rougher this time, slightly tensor. No longer does it rush over the same familiar rocks or follow the same pattern, but is forever changed. And when the storm comes back each time the stream takes a new hit, each time less still then the last. Until it is enraged no longer still and calm, but now it roars as it pushes over the unfamiliar rocks, its water no longer pure but speckled with bedraggled sentiment. Yet the storm never changes, and it never notices the hardening of the once pure stream.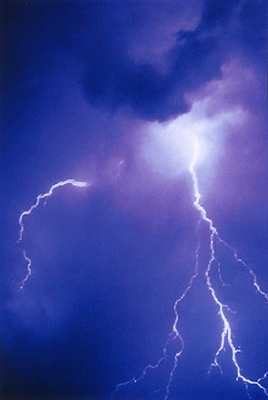 © Steve A., Goodyear, AZ