Perfection
November 1, 2011
That porcelain face
That angelic smile,
The lustrous red lips,
The pearly white teeth.
That beautiful hair,
Those auburn ringlets,
Like autumn leaves,
They fall about her face.
Those soft eyelashes,
The flawlessly shaped eyebrows,
Those soft green eyes
Like a still forest pool.
But if you look closer,
Past the angelic smile,
Under the autumn ringlets,
Behind the green pools,
The porcelain is cracked,
The smile is fake to hide
The fear and the pain.
Her life is collapsing around her,
So fast she can barely blink those gentle lashes.
Every so often, the facade slips
When she's alone in her room at night.
Where there's no one to see
She pours out her heart,
Her worries falling away
In silent silver tear drops.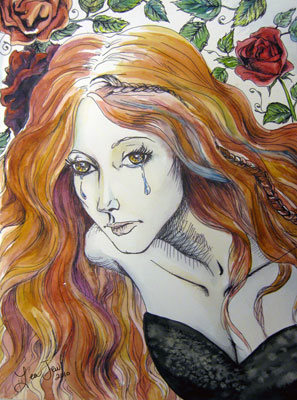 © Leonora J., Fullerton, CA