The Deadly Storm
October 26, 2011
Middle of April
I was in 5th grade.
All of a sudden the sky was a
Haunting white mess
Snowflakes falling here and there
Snowflakes falling everywhere.

The sky was a white crazy mess.
Cars were out of sight.
Houses were disappearing.
Day after day
Night after night
Finally everything came to a halt!

A puffy layer of snow is covering houses, cars and roads.
The enormous orange ball of fire emerges out from the clouds, melting
The white fluffy layer of snow
Everything was covered in ice that looks like
Diamonds covers over everything high and low.

The power goes out
The house was getting
Chillier and chillier as the night goes on
I wore layers of pants and sweatshirts to
Keep my body heat.

As I look out the back window, I see all different types of trees
Shimmering with
Ice coating them
Then all of a sudden
Crack…crack…TIMBER...
BOOM!!!!
The oak tree behind my house has fallen over into the woods.

Now it was too cold
We all pack a bag of clothing
Four monster duffle bags came down the stairs
Purple, green, black, and pink
One by one they are tossed into the rumbling car.
Mom, dad, Jillian and I all pile into our silver Pacifica
We dart off into the mess of snow
And now the real adventure begins
In the middle of April.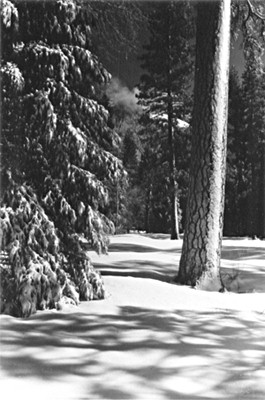 © Steve S., Marblehead, MA