The Ocean
October 21, 2011
Thick fat sheets of blue infernos encumber the dense boreal glacier.
Compressed with harmless dreams and sinful desires.
Foreign masses of serendipities and adversities shower tears.
Scattering fistfuls of blazing sapphire shards that dance and sway.
An emblazonment of happiness illuminates the atmosphere.
The sweet divine taste of purity embellishes my mouth.
Transparent silhouettes explode from fingerprints and memories.
Death's scythe partially glows in the infinite beauty.
Precious emerald straws engrave their imprints onto my soaked skin.
As I lay there, a fresh moist warmth embodies my soul.
Absorbing the sheer happiness and comfort.
Pitter patter goes the splashing of the rain.
Diving inside.
I allow the rhythmic motion of the winds cradle me.
The sky is my ocean.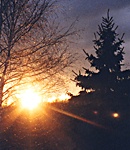 © Christy S., Germantown, NY