New Kid
October 20, 2011
Surrounded by masses of bodies,
Trying to blend, trying to hide,
Of course nothing works,
They are not blind toward,

The new kid.
They point, whisper, gawk at me, about me.
I am nothing special, a girl, Hailing from St. Louis, a girl,
Whose faith is as blinding as her love.


New kid,
Is the word that circulates the halls,
Trying to find the owner of this tag, Me.
I sit in a desk, quiet, alone.
Few approach, most just sit and stare.
I am proof of the gossip, the swollen rumors.


New Kid
Is how they call to me, grasping my attention, testing to see if I'm clique worthy.
I turn my head with a witty remark, New kid has a name.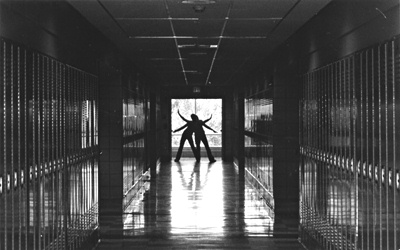 © Sheera G., Marblehead, MA