Perfection and Faults
October 19, 2011
She is perfect.
Beautiful, proud, happy, complete
She hasn't wasted one moment.
When the sun crawls, sleepily,
Away from the sky
She hasn't missed one word
On her list
She's strong, unbreakable.
Her brick wall is sturdier
Than a tree
It cannot be destroyed
By hateful comments and words.

She was me.

Her wall was crumbling
Under the pressure
Spiteful words carved into her mind
Like hieroglyphics on a cave wall
She's weak, shattered into to
Pieces
The sun leaps over the mountains.
And she's wasted her time
Waiting for the storm to pass
Incomplete, depressed, ashamed, ugly.
She's broken beyond repair
She is me.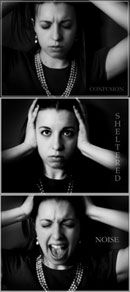 © Michelle B., Blairsville, GA