Maple Syrup
MAG
October 12, 2011
O sweet maple syrup, your name says it all.
The sweet molasses savor you leave lingering in my tingling taste buds
is the reason for my addiction every Sunday morning breakfast.
The only other satisfying snacks that can even compare are the circular sun-kissed waffles along the side.
When the light shines just right, your fructose-filled crystalline structures glitter through the voluptuous viscous flow.
Drop after drop, the plate is licked spotless and as I desperately scramble for reality,
the barefaced truth stops me in my tracks:
I need more maple syrup.
Your sweet charm and sorrel tone is what keeps me coming back every Sunday.
You could never corrode my stable ivories
for all you ever do is sugarcoat them with an extra layer of love.
Just like an ill person ingests hot soup to soothe his aches and anguish, you assuage all my
worries and woes of a weary Sunday morning.
I assure you there will be no deceit and my devotion for you is like
reinforced concrete.
In any hierarchy you belong above the class of elite.
Incomplete would be my life if we never ever meet,
so I will always save you a seat at thirty-nine Sugar Maple Street.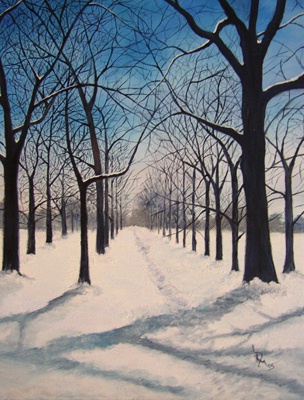 © Lauren M., Scotch Plains, NJ