Red is the World
October 21, 2011
Red was that weird butterfly's wings that I saw one scorching summer day when the grass was dead and the sky was clear.
It was hope that tomorrow I could catch that butterfly and discover how it flew, how to build my own red wings and fly away to a land when there were twirly dresses and no bedtimes.
It was a balloon that I released in the middle of a snowstorm only for it to pop and fall back down to the ground.
Red tasted bitter when it was dripping out of my mouth on the playground after she hit me.
It was the color of my hand after failing to learn something over and over again in dance.
Red is a wrong answer on a test that could bring down my precious GPA preventing me from attending the most elite universities because everyone else is better.
It's something spelled wrong on a word processor that has to be fixed immediately because it's just so annoying to have ruining your perfectly black and white document.
It means stop on some streets and cheap sex on others.
It's closing your eyes facing the sun and forgetting everything going on in the moment because the air is sweet and everything can pause while the world is red.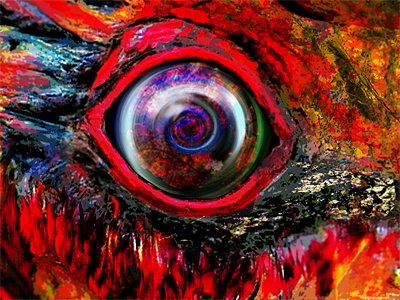 © Tom M., Philadelphia, PA