When Unwatered Flowers Get Watered
October 20, 2011
Like an unwatered flower,
I wilt at the stem;
My leaves yellow from
lack of attention

The receiver of death
I march toward the sea
My hands bound in unheard lies.
The taste of the salty water
stealing the only moisture
still loyal to the tongue.

A waster of life,
I watch, as the ocean spills itself
upon the sandy shore.
Over, and Over in its confusing color.
Its silvery scales
reflect against the sky's clouds, which float,
washed in a monotonous grey tone.
I tilt my head back
And sigh a rainbows sigh.

The givers of love
Our hands now hold to 'we'.
Our sight now consisting only of
the patterns of our eyes.
And in our ears,
the sound of the waves making love
to the highering moon.
The sky is now clear,
its stars smiles upon us.

And like a flower unwatered
We wilt at the stem
And march to the end of the dock
To plunge,
Fingers entangled,
To the deepest depths
Of attention.

We will no longer lack in moisture.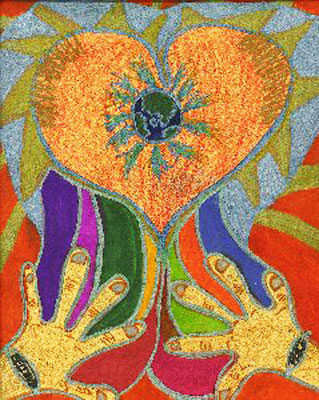 © Amanda P., Clermont, FL