I Don't Want To Miss You Tonight
October 6, 2011
Like a small, single light in the middle of a blackout.
You catch my attention.
You raise my eyes from the sad ground up to yours.
If the world stopped, I would want it to stop there.
So I could look into your eyes forever,
and I wouldn't mind if your light was the only one in my life,
because that is how it is most of the time,
even though I don't realize it.
And without fail, every time,
your voice brings me back to reality.
Everytime I tell you I'm scared, or sad, clinging to reality,
you tell me "think of me".
And I do.
And then it's all okay.
But I know we won't work.
But you don't.
Your undying belief in me is refreshing, but agonizing.
And I don't how to tell you
because when I do,
it will be as if an eclipse has arrived, and is here to stay forever.
I would have blown out the candle,
and it can never be lit again.
You will leave me with your light.
And the blackout that is my life will continue.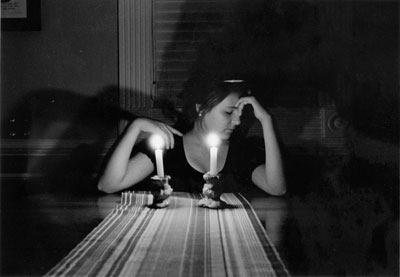 © Eleanor K., Bethesda, MD