Little Black And White Dress
October 11, 2011
After driving the long way home,
After a long day of school,
And long dreadful hours of work,
She takes off her skinny jeans,
The knees ripped out.
She tosses her white tee,
With the angel's wings print
Down to the floor beside them.
She kicks her Converse out
Of her way, and reaches
For the dress.
Oh that beautiful little white dress...
The one that made her
Like the angels she dreampt of.
Slipping on her nicest heels,
Doing her hair up like a princess,
Her make up like a love faerie.
Her best jewel around her neck,
Second best laced around her wrist.
She walks to her car, and
Starts it excitedly.
She's ready...
Hours later...
Her body is shaking,
His hands on her hips,
His lips by her ear,
Sweet whispers
Thanking her for dancing
Thanking her for coming with him tonight
Apologizing for her evoking her shyness,
Her timidness towards him.
What he doesn't know is that she likes him.
What she doesn't know is that he likes her.
She's been waiting all night for this.
For painful hour after painful hour,
She's been watching him accept
All the offers other girls have made
Dancing with them, yet for some reason,
Never looking at them.
And for painful hour after painful hour,
He's been watching her, sitting
On the side lines of the dance floor,
All alone, and forgotten by all the boys.
He's been waiting all night for this.
When the first girl he'd danced with asks
For another turn, he tells her his
Last dance of the night, is not for her.
He asks her to step aside, so he may ask
The girl in the little black and white dress
To dance with him.
She can't believe her eyes when she sees
Him walking to her,
Asking her, begging her to dance.
So as they twirl,
All the other girls
Staring and glaring in envy,
She twirls in the arms of the boy,
That all of them want,
And he only wants her,
And she, the only one who
Sees him for more than just his looks,
Is now happy that she took four hours
To get ready for the dance...
It was well worth the time.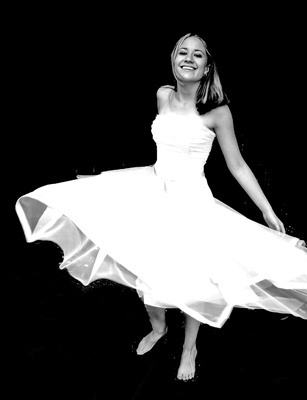 © Kara S., Walnut Creek, CA