From A Manga Lover
October 19, 2011
I remember the sun sprawled on my back
Five year old cheeks stained tan with leisure
I hovered on the straight shoots of grass
Reading, legs dangling in the air,
Honey and Clover, Fruits Basket, Azumanga Daioh,
From noon to dinner to bedtime
Caressing the warmth radiated out from their
Liquid eyes, bubbling with stories.
When it's turns sad, when the girl weeps and
The boy would sigh and walk off with his fingers
Still holding on to her photo,
It is still a beautiful scene, without pain,
Because at the end, there will always be
Interlocked hands, embraces, and everlasting hope.
I remember the first day of Spring Vacation
Reporters on CNN spoke with voices too loud, too fast
My senses went numb, no feelings, no life
No reaction to the sound waves from the TV
All the newspapers boldly announced that
The earthquake moved you 3 inches to the west,
Well wait 'til they hear it moved my heart
Six years to the past
To Death Note, Naruto, Pokemon,
Inspecting every last word, every single corner of
Every black and white page, flipping unconsciously
My mind lost in another world --
And when it's sad, when the hero's sister gets brutally killed by
The villain, and there is this silence gnawing
Through me, creepy and lurking,
It is such a powerful scene, without doubt,
Because a voice knows the hero will break free, it chants
Don't give up, keep pushing on!
And I am only a manga lover,
Spending my days dreaming of nothing and everything
You have always meant something to me
As the creator of this eternal universe to which I survive upon
Every manga book is a cell in my blood, together
They made me understand that when it's sad,
When darkness won't stop gouging into your soul
The apocalypse seems to have arrived, you cannot see the sun --
It is still beautiful and powerful,
Because it's only a chapter in your story, waiting for a happy ending,
So don't stop, Japan, keep writing.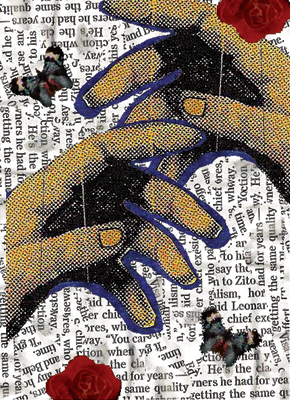 © Christine S., Arlington, VA