Run, Bunny, Run.
October 17, 2011
Little white rabbit.
Big black eyes.
Darting here and there.
Snow is falling,
Big white cotton balls
that match your fur.
Are you alone?
Just like me?
Are you all alone in the universe?
Do you have no friends?
Do you have fears?
Do you twitch with fright?
Do the big foxes
with their long lashes and
sharp teeth and
harsh barks
scare and bully you, too?
Run, bunny, run.
Run away from life all you want.
It won't go away.
I have tried.
Running bunny.
Run far, far away.
But you will not be able to outrun
The foxes.
Their teeth will tear into your heart
Leaving scars that will
Never fully heal.
Their harsh barks will
penetrate your skin and
sink into your mind and
not go away
ever.
Run, bunny, run.
I will run with you.
Run.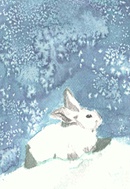 © Megan L., Desmoines, WA