Hatred
October 14, 2011
You packed your necessities leaving one behind,
I would have thought you would have missed me.
No note or no call, you gave me nothing.
Awakening I hear nothing, it is unusually silent.
Never ending days filled
With uncertainty.
Hatred flows through my blood,
Overwhelming my body.
Betrayal sits on the thoughts of my mind,
Allowing nothing else in.
Your car has vanished.
Memories begin to fade,
Only allowing that morning
To be constantly replayed in my mind.
Your closet stood empty.
Waking up to find the life I once knew gone.
Along with all traces you even lived here.
Pictures on the wall mock your existence,
As your basement is unspoken of, and not one of us dares to enter.
Moms' worrisome face gleams with a crooked smile,
Acting clueless and as if everything was okay.
I stand indecisive;
Who could I trust?
Questions fly and I have no answers.
My mind flutters, this wasn't you.
Were you okay?
Why did you leave?
Where are you?
Days turn to weeks, and the agony drags on.
The bracelet I made you still sits on your side of the sink.
Returning to the normality of my life with one absent part,
Leaving me to put the puzzle together.
Fear trembles over my limbs,
Until the call.
The sound of your voice returns,
And to know you are alright brings back a hint of relief
Overpowered by anger
My hate returns.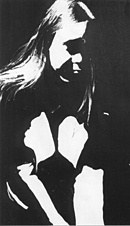 © Tabitha M., Kannapolis, NC