Cotton Cloth
October 16, 2011
Cotton Cloth
Young teenage boy hurriedly scribbling down overdue assignments, frustratingly glares at the PO Box asking all to stand. He only gives the Cotton Cloth a passing glance before returning to his work.

Cotton Cloth
Piece of cloth hung in every classroom
Suitable bathing suits
Cloth of possession of a nation
Cotton Cloth wants to take over the world.

Cotton Cloth has colors
Recognition the Cotton Cloth is other than tacky bathing suits
Colors of the sky's transition to sunset
Masque face of a clown
No more imagery for once the colors are spoken as one,
The Cotton Cloth comes

Stars
Night sky's inconsistent lights
Friends of the lone Luna
Symbols of the Cotton Cloth
A girl in elementary school jumps out of her seat in eagerness to voice the pledge of allegiance to her nation's flag. Reciting each word with clarity and confidence, her right hand clings to her heart as she says:
"I pledge allegiance to the flag of the United States of America, and to the republic for which it stands, one nation under God, indivisible, with liberty and justice for all."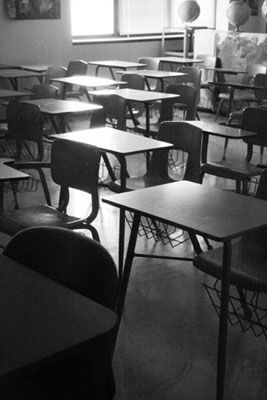 © Sean C., Princeton, IL