What is My Name?
October 10, 2011
I am the creeping footsteps on the wooden floor.
The wind rapping on your chamber door.
The howls into the chilly night.
The haunting presence you feel and fright.

Lurking in the foggy shadows,
Behind your every step.
Turn around, I'm right here.
Or maybe I'm over there.

Your conscious knows my name.
Only you can't see my games.
Once the sun dips behind the clouds,
I come gliding by your nervous side.

Come, let me whisper in your ear.
Send shivers up your spine.
Dance on your bed, and blow soft chimes.
Hush now, I'm only playing tricks with your mind.

Be not ashamed, no one can escape me.
Just when you think, you're all alone.
Then comes dark and I rise up,
Like a gentle storm.

In the mist, I hover around you.
You tense and begin to panic.
Seeing things that cannot be,
Let me know, can you see me?

Rest your weary head, and calm the racing heart.
I only came to play, I didn't plan to stay.
Morning is here, I will be on my way.
A kiss goodbye and my evil little glare.

What is my name? My name is fear.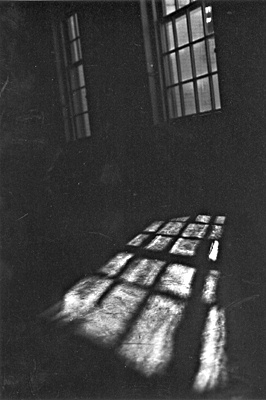 © Mary A., Fullerton, CA