What Lies Ahead
October 10, 2011
Blindfolded and unaware,
My arms are pulled in separate directions
By anonymous forces
Whose purposes are unknown to me.
"Wait," I tell them. "Stop!"
But their steps do not falter
From the course we are going.
I dig my heels into the ground,
Wanting to stay here,
How I am now:
Young, intelligent, hopeful for the future.
I become aware of the path;
Some wooded road to wherever it takes me.
How could I have not heard the leaves crackling with my every step?
I struggle with the cloth that conceals my eyes
Not allowing me to see what lies ahead.
It will not budge, not even shifting slightly.
I am blind to this journey.
A bittersweet feeling;
Wanting to know where to go,
But afraid of where it may be.
I give in to the forces,
Resisting no longer,
Allowing the stronger one
To guide me;
Maturing with every step,
Learning with every misstep.
And as the sunlight hits my shielded eyes,
I get a glimpse of the road I am traveling upon,
And I have hope for what lies ahead.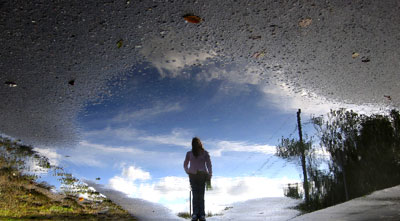 © Daniel H., Oak Bluffs, MA