If I could change the world
October 9, 2011
If I could change the world
I would make everyone dance- no matter what the style or time
Curling and bending and leaping and soaring, letting your body completely unfurl
It's hard to look with jaded eyes while moving with rhythm that can't be defined
And I, I would map constellations on children's bedroom walls
A reminder that even in darkness they'll never be blind
With every leap of faith there's the potential to fall
And we're programmed by nature to keep it in mind
Yet the notion of faith is what inspires us all
If I could change the world, be a god of some kind
I'd sit upon the masts of ships, and guide them through the squalls
I'd put a message in a bottle for someone else to find
Let them dream up mermaids and the ocean's call
And if it were up to me, all pain would be confined
Let the innocent bloom rosy colors from underneath dark shawls
I'd make poets who scorn the notion "out of sight, out of mind"
And together we'd create truth from countryside and city sprawls
If I could change the world, I'd put the clock on rewind
Let everyone be a child again, and write upon their walls
I know little of worldly notions, and wisdom's not my strength.
For I've not stood foot upon this ground for any time or length.
But if I were to share with a soul not yet created,
I'd say to gaze upon the stars, dance in the silence, cry upon both pain and joy
Live life unabated.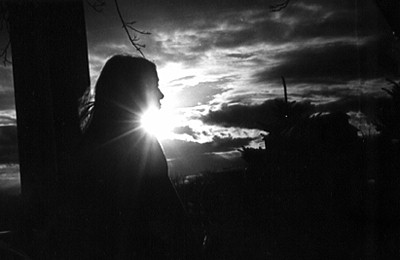 © Elizabeth G., Marblehead, MA