Ode To Feeling Something
October 3, 2011
What if, once, I allow myself to be swaddled in my emotions?
What if I decide to stretch out to them,
Decide to tow them in,
Like a heavy, burdensome anchor?

I allow them to hit me, hard like lead.
I allow them to envelop me,
Like a comforting mother
Smothering her innocent infant.
My mother's attention is not affection;
It is reality.

She dances tauntingly,
Naked and raw,
Beautiful and hideous,
Circling me, getting closer to me,
Until I swing my arm out and—
Draw her in.

My emotion is part of me,
Not a cloud around me,
But the spirit inside of me.

Spinning.
Tireless.
Constantly in motion.

A mind that never ceases its moaning,
Its humming,
Its cries of joy,
Its pangs of weakness—
Its relentlessly sensitive and obsessive analyses.

Should I heave this anchor back into those depths that once surrounded me?
Should I shred this heavy cloth, freeing myself from its uncomfortable closeness?

No.

Because if I just wait,
Allowing myself to push past that point
Of impenetrable chaos,
The clamoring din begins to fade.

And I can quietly call upon any slice of that pie when I choose.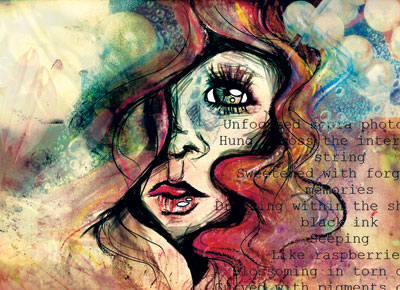 © Victor K., Las Vegas, NV