Never Really Knew
October 1, 2011
What am I supposed to do?
I lay here and cry every night.
Sometimes I wonder if you ever really knew.
Is there anything that can make this right?

I know you love her,
And want this for life.
But do we ever really know for sure?
Is she truly your wife?

Take some time to think,
Do you really love me too?
This is all pushing me to the brink.
I believe you never really knew.

I waste tear after tear,
Think about you and her and me.
If you only you could be here...
What do I gotta do to make you see?

You led me on.
I always knew my love was true.
I guess I'm not the reason you were born.
I guess I never really knew.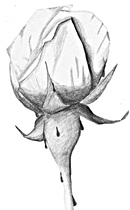 © Elaine S., Phoenix, AZ