Catching Bees
September 25, 2011
This morning
I stepped outside
and the cruel wind whipped my nightgown around my knees
while the wet leaves clung together like lovers
and kissed my feet as I passed
and then I got to watch the world wake up
and the sun paint the sky from purple-gray to white
and chase the leftover stars back to their homes
(the ones lazy and bloated with too many wishes)
so they could rest before their next night shift.
Now, I suppose that I will humor you,
and write of something else
(although we both know
that's not really what you want)
so let me tell you
about catching honey bees with my barefoot neighbors
when I was small;
we would climb the grape arbor,
the vines strong enough to hold us then,
and
with a pitcher of lemonade
that we would reel up in a basket on a rope
use old jam jars to snatch the bees from blossoms,
lightning quick and fearless,
no room for hesitation because
if it escaped,
the bee, enraged,
would surely seek us out for its revenge
no matter how long
or fast
we ran.
And then,
when it got too dark to see the bees
and our jars were stuffed like Christmas turkeys
we would take off the tops,
drop them in the grass,
and run for our lives
into the kitchen with the screen door slamming,
to a bowl of freshly whipped cream
to be licked off fingers and strawberries from the vine,
and then back outside to chase the chickens from the garden
and deck mud pies in pilfered flower petals
from the neighbors' yard.
And later still, with the moon our only witness
would we scamper naked up the rope ladder
hanging from the oak
above the pond
and push each other off the branch
down to the waiting water with a scream
and splash
to wake the sleeping woods that hugged our childhoods like
a watchful mother.
And after, wrapped in flannel,
I would braid dandelions into their waist-length hair that was
the color of the campfire
that we cooked our beans over
in an old copper pot,
damp hair curling from the heat.
And then it was time to climb onto the roof
to make up new constellations
and sleep tangled together in a mess of dirty feet
and campfire smoke,
two red-head twins
with dandelions in their hair
and me.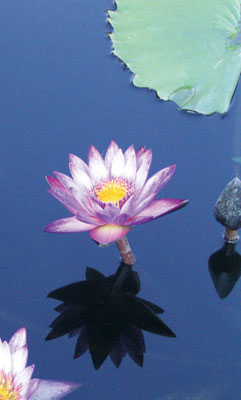 © Hilary B., Barrington, RI