Grace, take off your chains.
September 23, 2011
Grace take off your chains,
The anchor just slows you down,
Life has so much meaning,
Your emotions are letting you drown.

Grace I see your struggle,
White pills will bring no ease,
But have you just laid in a field,
And listened to the breeze.

Grace the world is watching,
It can hear you as you weep,
The rain was made to wash away your tears,
Your heart the earth will keep.

Grace you can't let go,
You have to cut the rope,
Life still has a meaning,
You just have to still have hope.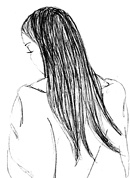 © Miranda B., Neosho, MO