Finding Yourself
September 28, 2011
Young lives are confusing, more so when you grow.
Rushing into things, finding yourself in the unknown.
Struggles erupt, modeling a confused world.
We all want our faces known, a trick people play on themselves, trying to shadow a bedlam of self doubt.
Living in a place that screams, "Your best can be better", finding yourself trying to mold into a distorted version of 'better'.
You do many things to stick to what they know, compromising your 'status qou'.
Working your tail off, day in and day out, all but forgetting your looming self doubt.
Then, once again, looking in the mirror, not liking what is seen, you hopelessly flip through a worthless magazine.
As your tears flow like rivers, cascading off your unfamiliar face, you decide your done being in this place.
Pickinf yourself up, wanting to crumble to the floor.
Organizing your thoughts, all but running for the door.
Strangers look at you, wondering what you're doing without your fear.
You shrivel back, but do not disapear.
The lies you were told.
The person you were sold.
Looking back, you gain some new-found perspective, your life compass pointing in, what looks to be, the right direction.
Lifting your head, you decide fear is just a state of mind.
Your heart flutters for the first time.
Gathering your things, throwing them down and walking away, relizing that today's a brand new day.
As you start walking towards a person you all but forgot, your heart rejoices in knowing that you rock.
Maybe life won't always be easy, but standing for whats right makes it seem okay; knowing you were strong enough to walk away.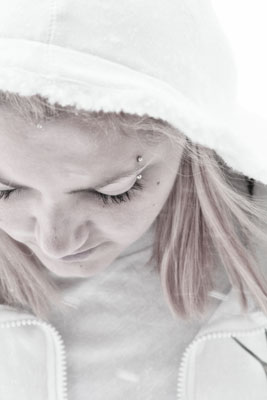 © Jessica F., Bradford, MA