Winter Fresh
September 29, 2011
The Blip comes in quietly
like any other boring day.
He takes his seat
next to a flawless cut diamond
that glimmers with a luster like no other.

He has never said anything
more than "I have a pencil you can borrow."
to the flawless gem.

But today,
he wanted to make loud.
He wanted to become not a blip,
but an iceberg.

He decides he will part lips
in effort to provoke a response.

"But how is my frost?"

He takes out a beckon of hope,
and pops it like an Aspin during a migraine.

Tingling at the back of Blip's throat,
mist coming about his eyes.
"How did I get here?"

Full grown trees all around;
the air was crisp and chill.
He felt as if someone had packed his nose
with cool mint leaves.

Green for miles around,
yet water could faintly be heard
treading across warm, battered stones.

Aaah!
Now Blip is back in first hour,
ready to get acquainted
with the girl of his dreams.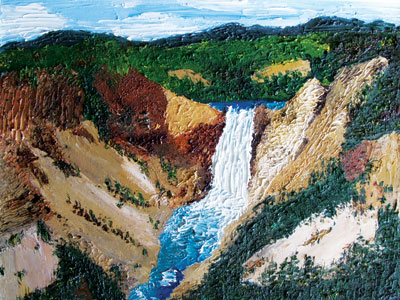 © Lindsay S., Billings, MT