Lives From The Towers
September 15, 2011
I wake up on that cool day.
Bright eyed and bushy tailed.
As i walked down the crowded streets of NYC grabbing my morning coffee
Then heading down town toward the twin giants that looked over lady liberty and all her glory.

In my desk in the highest story accounting was my job.
Piles and piles of unfinished paperwork to do
With not enough time to do it.
Time.
That was something 3000 people including myself would regret taking for granted.

September 11th, that's what the calendar read as I looked at it on the wall.
Meeting at 2, basketball game at 6:30.
I walked to the glass wall in my office and looked over the city
Not a cloud in the sky with the sun shining bright

I turned and looked at the photo in the frame on my desk
A portrait of two little girls hugging their mother and father by the oak tree in central park.
I picked up the frame and looked at the reflection in the glass and smiled at the woman looking back
My smile faded as I caught something moving in the sky moving toward me.

I turned slowly and saw the plane heading straight for the tower I was looking from.
I felt the picture fall from my shaking hands and heard the glass shatter at my feet.
I watched as the plane drew closer and starred at it as everything around me began to move in slow motion.
I thought off all the birthdays I would miss, all the I love you's I would never hear again and all the goodbyes they would be replaced with.
I closed my eyes and let a tear escape my lashes and thought of all the tears the heavens would cry in the days to come.
I opened my eyes once more, just to see the city, the life I would leave behind one last time.
I stood there looking, waiting for what was to come.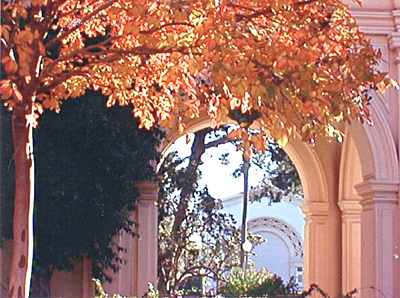 © Rachel B., San Diego, CA