FROM THE EYES OF A BYSTANDER
September 3, 2011
What do I do? Just watch life passing by. It is in my gene to turn a blind eye.
You can find me in a coward, in a cruel, or in a child. Chained by the circumstances, sealed mouth watching the wild.
My senses are strong, to the wrong. Why don't I fight and defend? Is it because of revenge? Or is it because I am afraid to bend?
So many people scream in my dream, shouting for me , I don't why I m their need?
But I am too afraid to be out, I have unheard their shout. What if the situation is so bad? Why should I help, I am not that mad.
There is so much to work, there is so much to gain, let the others suffer to death, my concern is not their pain.
Though all the elements work together- the fire, water, earth and air. I am so inhuman, ignoble and ignorant to what is dare to care?
Who am i? just a mere bystander. Watching life passing by, I lost too much now I realise, in this communication of the dupe and me I was neither the receiver nor the sender.
I was merely watching life passing by from the eyes of a bystander.
I watched many die, I watched many going insane. I watched just born hearts dying on streets during the torrential rain.
I watched them all, coming to me and asking me if I could get some help. But I was too occupied with myself.
Mark of courage is not only the act of saving the dead. It is raising your voice when you see the wrong is being said.
But I did none neither by my action nor by my words, I don't want any of you to live my life it is so unheard and absurd.
But in this world of speedy communication where you can be the precious receiver and a worthy sender.
I hope it is communicated to you what it is like to see the world from the eyes of a bystander.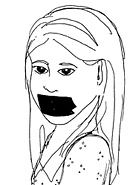 © Liza M., Vineland, NJ