If I Never Come Home
September 2, 2011
When I walk out that door, I may never come back. I'll go out to war.
If I never come home; don't cry a single tear.
I died doing what I love, never fear.
Don't worry about me if i never come home. I'm going to be a hero of war.
Dear Mom, your little girl is a soldier now. I hope that I have made you proud.
Dear Dad, you weren't always there. But something you must hear. I'll hold all the times we shared close and dear.
Dear Sis, I hope you're finally proud of me. A soldier, yeah that's what I'll be.
Dear My Love, I'm going to hold you close. My last few moments with you. My time to leave is way past due.
To all my friends and family. If I never come home, don't fear.I'll always be near. Hold me in your heart and forever I'll stay.
If I never come home, I'll be your soldier guardian angel.
and when I get to Heaven and see that pearly gate.
I'll look at St. Peter and just stand there and wait.
Because I'm a soldier I'm in such a bind.
I'll just stand my post.
I can't leave my troops behind.
So if I never come home you'll know where I'll be.
Standing my post outside Heaven you see.
Dear family and friends, now are you proud of me?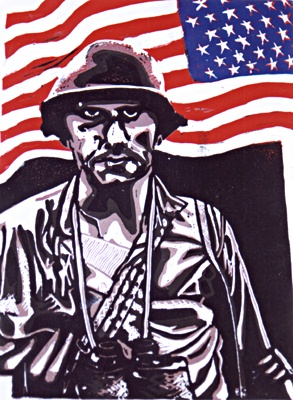 © Troy W., Kannapolis, NC