Those Summer Nights
August 30, 2011
It's something that happens every year,
Big and blissful, wholesome and sheer.
This happens at the dawn of every summer,
And although I have to wait, there is no bummer.

As the sun goes down, so do the stars,
To dance the night away above the clouds and Mars.
And once the sun's rays are nothing but spokes,
The day's light dims like sleepy, tired old folks.

The birds stop their chatter, they sleep in their nests,
The lightning bugs come out, and the bats cast their bets.
The crickets chirp their reedy sounds,
And the frog's deep croak echoes all around.

By this time, the sun finally falls,
And then everything stops, even the owl's calls.
And finally the darkness drops like a caring hug,
Warm, fuzzy, dense, like hot chocolate in a goofy mug.

The moon then rises, glowing like the sun,
Silver and vibrant, glimmering so it can have fun.
The animals look at it, bowing down to their midnight king,
Thanking it for the light it almost always brings.

At the lake, water gently laps at the shore,
And in the distance, nothing moves nor roars.
There is only a herd of grazing deer,
Which calmly look up at the glowing sphere.

I watch all this from my bedroom window,
Late at night, scanning the beauty of the meadow.
With gentle winds tousling my tangled, blonde hair,
And letting the warmth of the season answer my prayer.

During the day, this scene is quite different,
Everything comes and goes, introverted with intent.
Animals shouting down other's throats, hoping to be heard,
And so many vibrant colors that my vision gets blurred.

Now though, everything is calm, gentle, and mostly cool,
With nothing around, and animals are keen to the golden rule.
This is when I calm down from the day's events,
Not to just fall asleep, but to think and repent.

It is during this time that I am all alone,
But I never feel as though I should gripe or groan.
Because once I am done with my work in the light,
I sit back and calmly watch those lovely summer nights.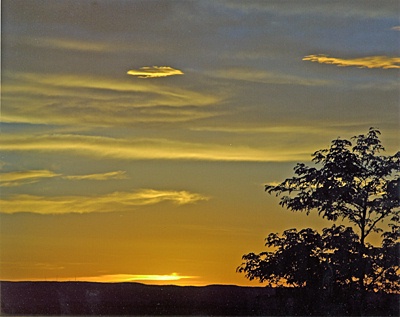 © Elizabeth B., Wichita Falls, TX