Blue Twilight
September 5, 2011
My aquamarine eyes
watched the Bahaman blues
Segregate themselves into jigsaw pieces,
Each its own tribute the ocean's tides
The sea clutches a grainy cerulean
Paired with a permanent tinge of phthalo.

Horizon lined edged in indigo,
Sky laced in ceil,
Dripping on the faces of stray Russian Blues
Slithering through midnight alleyways.

Grassy azure
Trickling down the feathers of blue jays
Their wings cutting
The powder air

Navy breath
Pouring out of the mouth of a lonely sailor
Grasping the edge of his blue canvas seat,
Pulsating cobalt
Seeping from the base of his iceberg
Fingernails, strangling a white cigarette,

Puffing clouds of periwinkle smoke
That wove into swirls of sapphire
And bled into the blue twilight.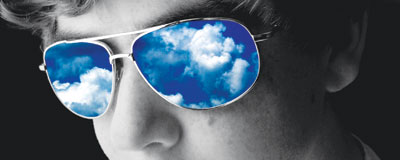 © Joseph B., Mesquite, TX