A Little Boy With a Big Dream
September 4, 2011
A tall man
Bravely strides on stage.
Concerts are his favorite thing to do.
Down he sits on the leather bench,
Eventually the lights begin to dim.
Finally, the crowd quiets down.
Greedily, his quick fingers pound the ivory keys,
Hastily he plays.
Into the keys his fingers sink.
Joyfully he plays,
Keeping time with his foot,
And Laughing with delight at his great accomplishment.
Many people are awestruck with his talent.
Nobody, though, understands how he feels deep inside.
Only he understands the dedication,
Persistence and
Quick reflexes needed to become a great performer.
Real talent only comes to those who want it.
Soon, his piece comes to an abrupt end.
The audience stays quiet
Until he stands and takes a bow.
Vigilantly, he walks toward the exit,
When the crowd goes wild.
Excitedly he bows again as roses fly through the air.
A young boy wakes up from his daydream, stands up from the piano,
And walks away, inspired.
Twenty years later, that man was him.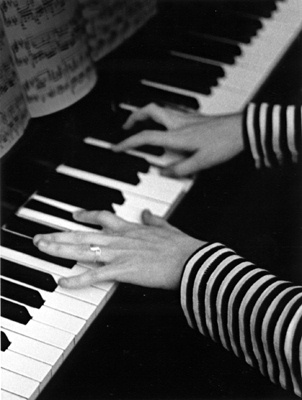 © Paulina A., Marblehead, MA