Fallen
August 29, 2011
If you would compare my words to yours side to side,
The differences easily stand out,
To mine, and anyone else's eyes.
You write about feeble experiences,
Linked together with generic feelings,
Generic scripture.
Numb and ordinary.

However, when I write, I paint a picture,
Of a thousand words, sometimes more.
To create something real, something deeper than ordinary.
It would be incredibly boring to write about our lives,
As if they were unreal, and stationary.

My moods and feelings shift like the tides of the sea,
High waves crash and fall all around me,
Pulling me out, and tossing me back in,
Caught in the undertow,
With every single distressed thought.

In contrary, a beautiful sky,
With calm waves that signify serenity.
A feeling so high, that only the clouds will touch me,
Nothing can stop me at this altitude,
All I have now, is the stars and the moon,
When the sun begins to fade, and set it's self away.
Into the sky of purples, magenta and gray.

I'll bask in the dozing light of the remaining rays,
Sitting atop of this feathered cloud,
Imagining if this is where the angels sing and dance,
And cry tears of joy over us,
If we should be so lucky.

As my feet dangle from the cloud up above,
I know the only way down now,
Is to fall.
Slowly, I would close my eyes,
And hold my body with my arms, so very tight,
Only for you to be waiting for me down below,
My beautiful muse.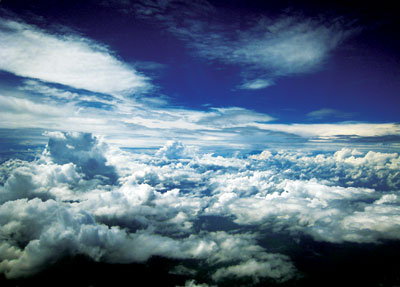 © Jacob W., Oklahoma City, OK