The Orchards As They Fall
August 25, 2011
Fresh,

from her hands are the orchards that bear the fruit that dangles the same temptation, that lured the first man to deceive. i cant seem to stop I'm unaware of how this could be, because i don't just stagger and stumble; i fall. I fall hard. The kind of falls that as a child gave you scrapes or green and purple bruises on the knees. I fall but not with her, not with her not. Is it just this season?

I guess i could have seen it coming, charging full force while it watches me take fates course. i guess that we cant hide too long…all i want is to call someone my own so that sick little twisted thought that goes waltzing through my head wont have to take root. Because we all know roots burrow deep and the further we travel down the more we find that the soil is filled with rocks to choke away what wishes to grow.... but those orchards keep me hoping.

Hoping that branches extend and drop little transparent fruits of joy in which lay carelessly on the floor until i can see them shine and pick them up. Pick them up like my grandmother used to do before the surgery and before i knew how much she has done for my family. Ill be honest i find my self to be envious of that fact; she makes great apple sauce that makes every inch of her house smell heavenly. That scent is the key to my drawer.

You see the scent brings it all back to me. The days of my childhood innocence and being free. The innocence that i keep wrapped and buried in a stained cloth, hidden inside the drawers of my being. Tucked under all that i am, so i can keep it safe and clean.

But as of late things have changed, opened and unraveled.

Her scent, her lovingly warm scent wavers between apple and vanilla but during this cool autumn weather i prefer to pick up the tiny fruits that her orchard leaves behind. Lets face it, orchards aren't open all year. It might just be this season.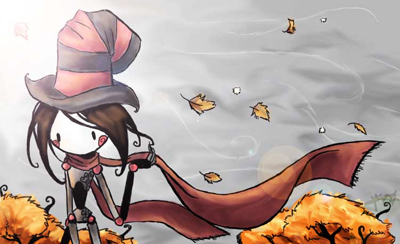 © Kirsten K., El Segundo, CA