Goodbye Daddy
August 26, 2011
Saying goodbye,
even though I didn't know where he was
going.
Feeling as if that he would come
back,
me in some state of
denial.
Knowing him saying that it would be better for the both of
us.
Even though I knew he was only thinking of
himself.
He didn't leave to find a better job, or go to school,
he left to follow
her.
He said I was his world and I
believed him.
But, not
anymore.
But to think I was so happy
when he finally came
back.
He stayed here for a while
and just when I thought he would never
leave again,
hes leaving next month.
Now I must put on a strong face,
to do this all over again,
to walk up to him tears stinging my eyes,
but carefully not letting them fall,
to say once more "Goodbye Daddy."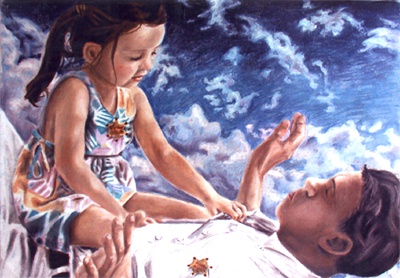 © Meg S., Andover, MA