I Want To Hold Your Hand?
August 21, 2011
As I've moved through this crazy thing called life,
I've been holding your hand (or trying to).
You've supposedly been through it all:
The ups and the downs.

I tried to cross the street on my own,
But you still took my hand anyways,
Saving me from oncoming cars-
And everything else.

In the store,
Walking next to the carriage,
Holding onto the cold bars,
Distractedly staring at my cashier ex,
You took my hand and led me down the cereal isle,
Saving me from an awkward run-in,
After a messy break-up.

I've been through so much
While holding your hand,
But it's time to let go.
I'm moving onto bigger things-
On my own.
It's time to take that risky step
Into oncoming traffic,
Hoping I can dodge it fast enough.

I looked both ways before crossing Time Square,
Like I should.
I finally let go of your hand
And it landed parallel to my side,
Identical to my left one.

As I looked through the crowd,
I couldn't find you.
To think about it,
I never could find you.

And it was in that moment in which I realized
That the hand I'd been holding all along,
Was mine.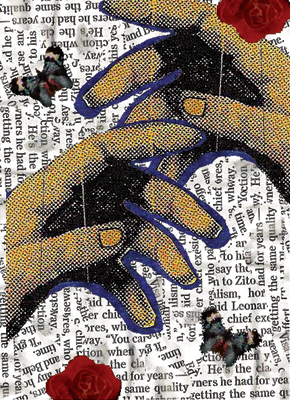 © Christine S., Arlington, VA