Stop Making Sense
August 23, 2011
The blue bird is humming

though the sap of the sycamore bled

from one end of town to the other

curled like a garden snake

at the sight of a mouse,

and the injured dog limped away

like the tick that rode it.



He said the sky was dark as cockroach's back

so he fell through the furnace of a

cactus which grew like green plates from the ground

and collapsed through the sand like a wave

and fell through the earth like a body

through a grave that seemed to

grow from the ground as naturally as

a cup of cider.



The blue bird was still humming

through the chalice of dirt

and the sycamore bled

a river through the town

and followed him like a lost dog

through an Arabian desert and a

thousand moons of the Milky Way

and they swam thru the sun

and flipped from the stars

though the sycamore's cactus had long been gone.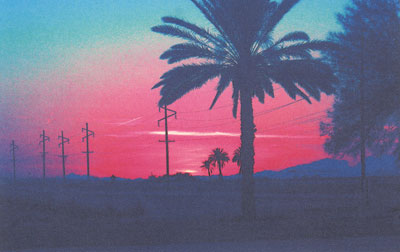 © Arenda R., Palo Verde, AZ