Autumn
MAG
August 22, 2011
It's autumn and the mountain sides are
bare.
The leaves are changing,
curling in on themselves,
drifting toward the ground,
turning the color of sorrow.
Sorrow that they will no longer make
someone
smile with their beauty.
Sorrow that they must wait six months to
turn back to what they were.
Sorrow the color of her eyes,
the day I stood by and watched her curl in on herself.
Withering away into nothing
and when I finally thought to reach out a hand
to hold her,
my fingertips remained inches away from
the corpse of what she was.
They told me at the hospital
that the lifeline was flat,
and did I know what that meant?
As they led me to the children's waiting room.
The one with bright walls and cookies on the table.
Of course I knew what it meant.
It meant that one more leaf would no longer get to
unfurl itself come spring and
grace this world with its beauty.
So they gave me a band-aid to cover it up,
and I let it fester until I had nothing left
to do but rip
Tweetie Bird's smiling face and
Roadrunner's spinning
legs off of me.
Because she wouldn't get to do either
of those things anymore.
And here I am,
with this infection inside of me.
Unable to sleep without seeing her face shriveling up,
and wishing that even a fraction of my hand could reach her,
because that would be enough to bring her back.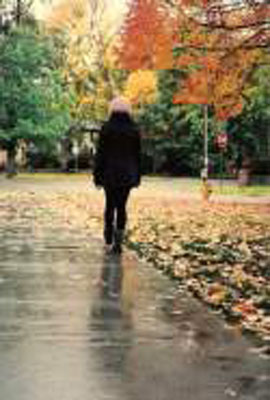 © Elizabeth R., Aurora, CO