Love From The Start.
August 17, 2011
Only us both,
You and I.

We share steady love,
Whick first only began as immature amity.

With-in merely but a year,
We matured as one.

We embarked on our journy of love while youthful,
Though just a child.

Together foe one-another inspite of everything,
Loss of loved ones, gains in family,
Along with hardship.

Following the start of our first employment's,
You asked for my hand in marriage.

Now, Middle aged and wed,
We created new life with our family of four.

As time passed on,
The children grew and now it's only us two,
Once ageain.

My beloved husband is soon strucken ill.
The time then soon came too lay to rest my partner,
My other half.

The only thing left for I is the following few years left,
Full of mourning, tears and heartbreak.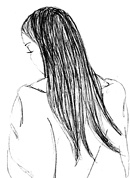 © Miranda B., Neosho, MO