Our Treasured Lake
June 8, 2011
As we paddle across the water in our tiny boat,
I can't think of a better thing to do than lie around and float.
In the middle of our lake with my girl right by my side,
We paddle as one person while the boat begins to glide,
There's no one to cause us trouble, no one to cause us strife;
There's nothing else I have to do but sit and ponder life.

On a southern summer day there's nothing better than
To jump into our lake and forget about our plans.
She splashes me with water and I cant help but smile.
It seems like such a shame that this will only last a while.
Soon I'll have to leave our treasured lake behind,
A new place as special as our lake will be impossible to find.

For now I'll take my time to enjoy this special place;
The soothing sounds, the pretty sights, the slow and steady pace.
With no one else around us, just her, our boat and me.
No limits or tedious chores, this place is worry free.
The slow and steady rhythm, the sweet and innocent bliss,
The water of our treasured lake is a place I'll surely miss.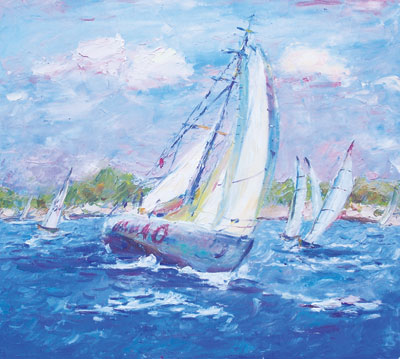 © Xiao H., Naperville, IL