The End
MAG
August 4, 2011
Like holding your breath for nine and ahalf years.
Like fire engine nail polish and Coca Cola bottles.
Like watching the world from the edge of a bridge, blue below, blue above,
you mascara the skyline.
Like a glass door breaking.
Like the frustrated twinkle of bracelets as a woman slams her fist against the steering wheel.
Like running over newspapers and postcards.
Like too-loud music and too-full laughter.
Like words trained into athletes as they jog a circular apology.
Like pole vaulting.
Like fluorescent lighting on magazine headlines.
Like pretending it never happened.
Like learning that it did.
Like fireflies four feet from your open garage.
Like a truck driver accelerating into a prairie dawn,
the radio and sunlight in his rearview mirror.
Like a simile.
Like inhaling history and licking your finger as you part the end of an era.
Like finally finding that missing address book.
Like mountain silence.
Like holding your breath for nine years
only to learn that time, not fear, cured your hiccups.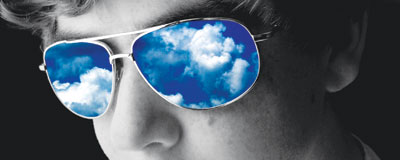 © Joseph B., Mesquite, TX