Age and Wise Imparting
July 25, 2011
The Frail Wind
Musters his strength in its entirety.
And grimaces
A shrieking howl of agony as he hoists the leaves
Littered
Strewn on the concrete parking lot,
Thrown from a hand abundant with careless beauty and loveliness.

They float now, ever-buoyant,
Loud as the most raucous silence.
Crisping.
Crinkling.
Cackling
Like a Halloween witch,
Like a freight train glutted with
Breaking Bones
Or being-bitten apples.
To imagine their voices is to imagine
A God or Goddess,
Overwhelming.
Like glass milk bottles in the early morning,
Rattling in the truck's cramped wooden crates,
Clinking in a million congratulatory toasts,
Tapping with a jingling jubilation.
The leaves shout to one another,
Surprised at their sudden stroke of luck,
Smiling their sly leaf smiles.

Then the wind, worn to a shrivel with age and overrun wisdom,
Dies to whisper in no more ears, to ruffle no more hairs.
And the leaves fall, flittering and fluttering as fairy wings.
Their landing, slightly less graceful.
A slap here. There.
One lands on a wad of gum.
Another, a windshield.

And one lucky fellow caught
In a small, gloved hand,
Moist under the warm fabric.
A smile lights the face,
A radiant, pure smile missing two front teeth.
The leaf is waved and shuffled
From hand to hand,
Eye to eye,
Shoved under noses,
Shown off as a marvelous beacon of pride at
Show and Tell.

Later, at home pressed in a book to save forever,
Left to flatten.
But the days pass
And months
And years
And decades.
The leaf is forgotten
There in the book,
Never again to feel the wind,
The wind who never again will blow.
But the leaf carries secrets, make no mistake.
Secrets of the wind and secrets of the book.
In these it holds a comfort,
In these it is content to ripen its knowledge,
Strengthen its wise ways,
And wither away
Into the pages
Until someone decides to read.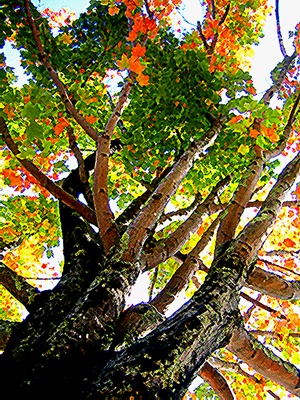 © Kathryn R., Shelby, NC