Immortal love
July 31, 2011
The flame flickers in the dark
in the middle of the room
We lay untouched
on the floor
My fingers tracing his mark.
The mark he is a shame of
not understanding
the depth of love
burning to look past
his beautiful mark.
He can make the rain go away
to bring sun into
my own little world
I'm grateful
but yet still frightful
Of the day he accepts the mark
and leaves the dark
To see the beauty i know
and in society
He'll grow
But I saved him
The flame in the room
begins to dim
I know he is thankful
for what I did
saving him from his sin
untouched he is
across the floor
I did everything without dread
They speak of death
But my dear boy is not dead.
every night
I sit here
stroking his head
only bones are left
but no one sees
He's kept away
This room is our tomb
My dear I'll be with you soon
Looking up at the pure moon
The room is quiet
as the flame flickers
one last flicker
the room goes black
they'll see how are love
was immortal.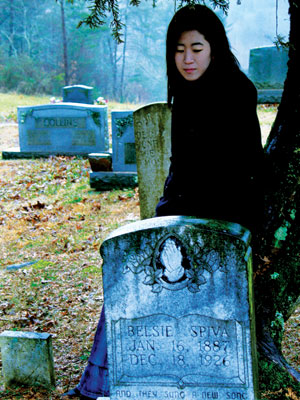 © Michelle B., Blairsville, GA