So Much More
July 22, 2011
At the end of the day,
when that storm, commonly referred to as life, blows over...

There they are, those brilliant hues.
That grand display of passion.
An arch of happiness shines through the despair.
Informing all of the hope that remains.

The brilliance only found in
the relief following the bitter struggle.
A burst of inspiration, as the colors,
one by one, overflow your soul.

An explosion of
Blue races through your mind like a rushing ocean to brighten your sight as
Violet stars reflect in your eyes.
Red fire overwhelms your heart, increasing your heart beat.

Orange streaks invade your veins causing a spark of pure adrenaline.
Green air, crisp and clean, floods your lungs causing you to gasp.
Indigo mist overtakes your grey cloud of desperation. And finally the
Yellow shine brings out your radiant smile.

Suddenly that storm we called life isn't so bad anymore.
It's bearable and ultimately beautiful.
Because after an explosion of color in your black and white depression,
you have been overtaken by the pure bliss of the best promise.

That there will always be a better outcome,
at the end of every storm.
Always and forever it will be there to fill you with life again.
To remind you that the storms aren't the end.

There will always be so much more.
There will always be a rainbow.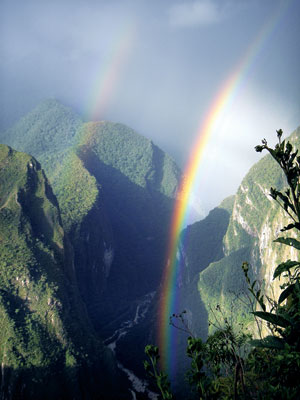 © Benjamin C., E. Norwich, NY