The Fear
July 8, 2011
It wraps it's cold, dark fingers around me,
Suffocating me.
The hand that caresses my neck,
bringing tiny bumps across my skin.

Its icy breath whispers my name in the night.
Its shadow hovers in the corner of the room,
Challenging me to fall asleep.

It stalks me through the street,
Dark and quiet, not a soul around to see.

It grows with each of my thoughts.

It's silhouette lingers behind the window,
as I sit, home alone.
Slinking by, just in time to make me wonder
If something is out there.

It lurks in the corners,
Permeating throughout the room.

It crouches in the abandoned house,
Filling in the space between the pieces of broken glass windows,
Blowing a breeze through my hair.

It prowls in the old man hobbling by,
Eyes boring into me.

Fear
Terror
Anxiety
Dread
Despair
Horror
Unease
Panic
Fear

No one can hide.
I scream.
Heart racing,
Breath quickening,
Pacing,
Eyes darting,
Clammy hands shaking,
Cold sweat breaking out.
Alone.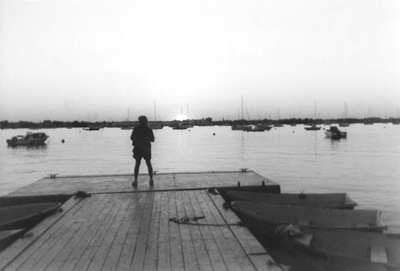 © Lindsey D., Marblehead, MA